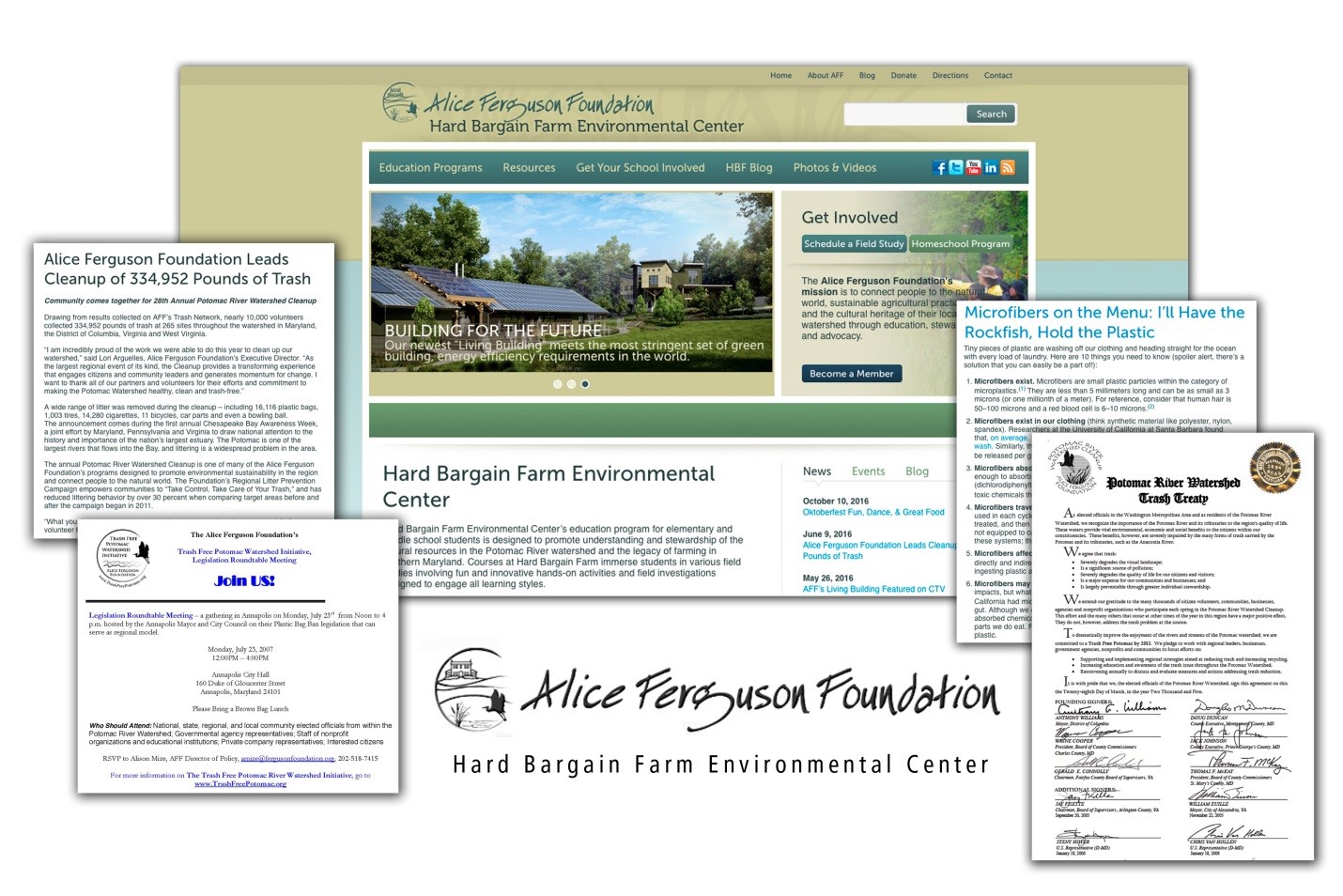 Alice Ferguson Foundation
Problem:
The Alice Ferguson Foundation was established in 1954 as a non-profit organization chartered in the state of Maryland.  Their mission is to foster environmental responsibility and to enhance the historic legacy and rural character of Hard Bargain Farm.  Each year, more than 10,000 students from the Washington, DC Metropolitan Area come to Hard Bargain Farm for day or overnight educational field trips, the Annual Potomac Watershed Cleanup, and the Annual Spring Farm Festival. Hard Bargain Farm contacted RMR to promote their Annual Potomac Watershed Cleanup.
Solution:
Each year the Annual Potomac Watershed Cleanup has significantly grown in interest, support, and media coverage due, in part, to the marketing momentum created by RMR and their efforts to position effectively amidst an overcrowded market, conduct successful outreach to secure coverage in key media outlets, design and develop targeted promotional materials to raise local awareness, and development of content pieces, such as media advisories and public service announcements (PSAs), among others.
Results:
As a result, The Alice Ferguson Foundation and the Annual Potomac Watershed Cleanup has experienced a continual rise in interest, support, and general awareness that has resulted in extensive media coverage and volunteer turnout. For instance, in 2001, a record-breaking 4,000 volunteers removed nearly 70 tons of trash from 383 miles of Potomac River Watershed shoreline from Augusta County in Virginia to St. Mary's County in Maryland.  According to Michelle Radez, cleanup coordinator, the volunteers removed 2000 balls, 551 tires, a 1955 Chevrolet, two wringer washing machines, a working cell phone, an automobile radiator, a treadmill and several kitchen sinks from the watershed!