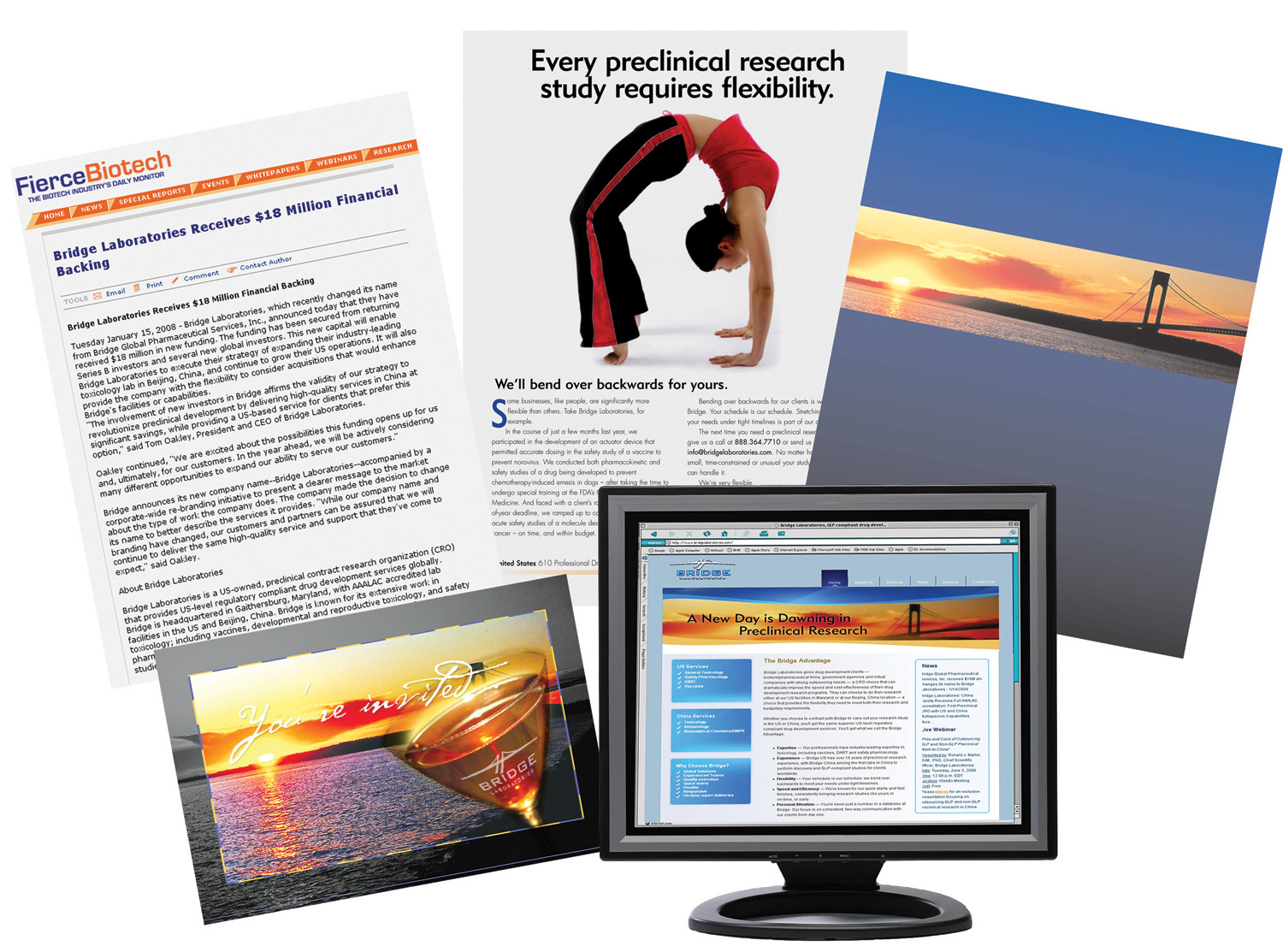 Bridge Laboratories
Situation:
Bridge Laboratories is a preclinical contract-research organization (CRO) based in Gaithersburg, Maryland with an additional facility located in Beijing, China. Bridge offers their customers, primarily small to mid-size pharma and biotech companies, tailored and personalized service while being responsive and flexible to individual client needs and timelines. Bridge Laboratories was also the first US-based CRO to open an outsourced facility in China to offer a wider range of services to clients at economical prices. Since Bridge's facility has been open, several of their larger competitors are following suit and expanding into outsourced service offerings, while currently Bridge is poised to break ground on a second facility in Beijing, adjacent to their first.
Solution:
When Bridge Laboratories first came to RMR, they were a roll-up of several other biotech companies and had little company unity or brand image, both internally and externally. First, RMR had to embark on a comprehensive re-brand with Bridge to determine corporate identity, messaging, and key characteristics as ways to grow visibility for the company and their unique selling propositions and innovative model.
Within 6 months RMR produced:
A Positioning and Messaging platform, key messages, and comprehensive elevator speech to distill key brand characteristics and establish company image;
A new corporate logo;
A re-designed website;
Corporate collateral – including pocket folders, cut sheets detailing Bridge's various service offerings,
Direct mail pieces around tradeshows and to gain participants for sponsored webinars;
Tradeshow booth materials;
Corporate advertisements (also converted to direct mail postcards)
Re-design and revision of a presentation highlighting Bridge's corporate capabilities;
An ongoing public relations/media relations campaign – including regular press releases, award nominations, and the creation and merchandising of authored articles by Bridge's executives on some of their hottest topics – ie. Outsourcing CRO Services to China.
Results:
By the end of 2008, after a full year of Bridge's program with RMR, Bridge had a fully refreshed and revamped corporate image and full range of associated materials, and had garnered recognition within their industry for dynamic and stimulating creative materials, particularly their tradeshow booth graphics. A year later, Bridge is poised to open a second facility in Beijing, has secured additional funding for current and future endeavors, and continues to achieve interest from top publications, such as The Washington Post, Pharma Focus Asia, Contract Pharma, and Pharmaceutical Executive.
"Our program required many different forms of marketing. RMR understood our challenges and did an outstanding job."

Mary Lee Keen, Director of Marketing, Bridge Laboratories