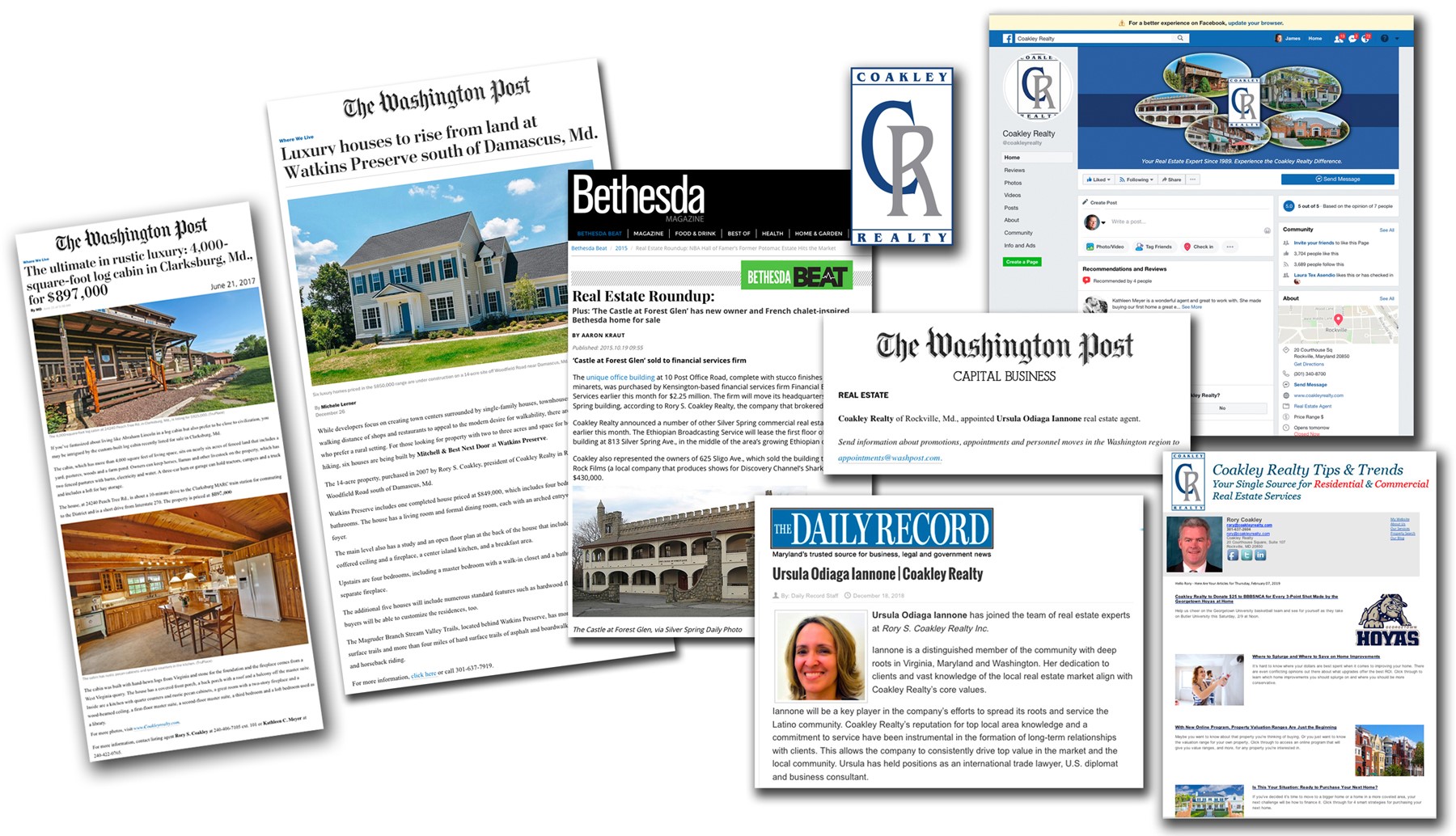 Coakley Realty
Problem:
Coakley Realty is a full-service real estate company that specializes in appraisal work, tax appeals, residential and commercial sales and leasing. The company came to RMR in 2013, fresh off of its strongest, most successful year to-date since its founding in 1989. Coakley Realty was interested in growing its commercial division and maximizing its awareness and footprint in its key industries, commercial and residential appraisals, sales, and property management. They wanted to ensure the market and its clients were aware of the expansive breadth of the company's team and its long track-record for results in the real estate sector overall and in the DMV region specifically. Coakley Realty was also focused on maximizing its referral contacts from LinkedIn and its client database through email marketing and Top of Mind Awareness to continue to build on its growth and expansion.
Solution:
RMR embarked on a comprehensive, multi-leveled strategic marketing communications program to address Coakley Realty's goals, including an aggressive Public Relations campaign and amplified Social Media activity to expand its reach while also solidifying recognition for the company and its team as thought leaders and industry experts.
Over a period of several years, the partnership between RMR and Coakley Realty has continued to grow. It has expanded into speaking engagements, authored article placements in the company's key target publications, regular email marketing distributions, social media, creative support and promotion around events and Coakley Realty's latest news and development listings.
Results:
Now in their 5th year together, RMR and Coakley Realty are continuing to build on the significant results achieved in their program to-date. RMR has supported Coakley Realty through major company achievements including award recognitions, growth milestones, and daily public relations and marketing support and is now entering the next phase of its marketing communications initiatives, driving the company's aggressive growth plans. Over the next five years Coakley Realty is poised for triple growth in their commercial division that will increase their market share in Washington D.C., Maryland and Virginia. Additionally, RMR is focused on continuing to support Coakley Realty's recruitment strategy to expand their real estate team and increase overall awareness of the team's commercial sales and leasing services within the local area and among Coakley Realty's target clients and prospects.