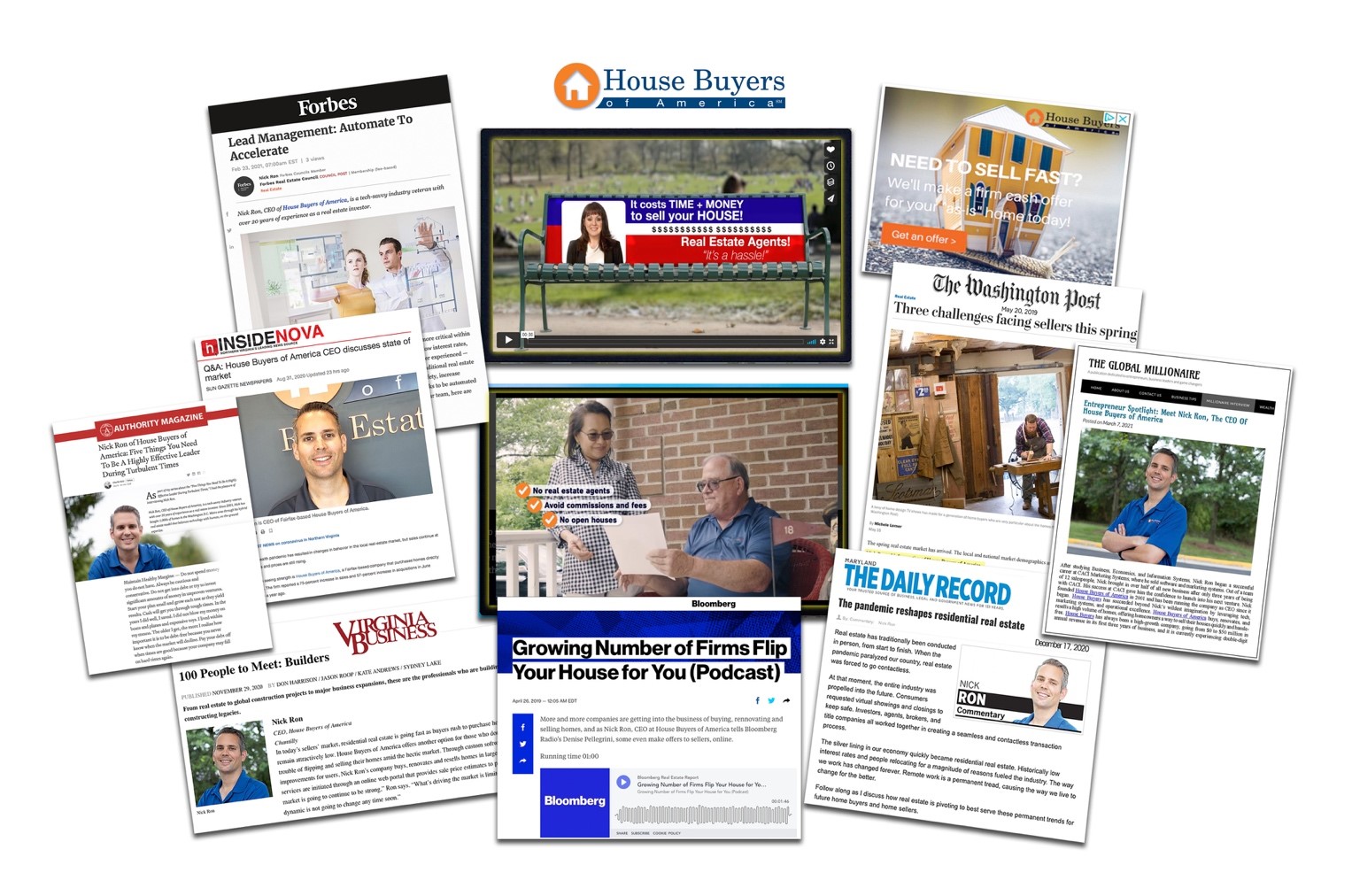 House Buyers of America
Problem:
House Buyers of America, Inc. (House Buyers) is a leading residential real estate investment company in the Washington, DC area, headquartered in Chantilly, Virginia. The company has experienced sustained, exponential growth since its founding in 2001, going from $0 to $50 million in annual revenue in its first 3 years in business. House Buyers has built its reputation on its ability to streamline the home buying process, cut out the middle-man, and work directly with buyers to buy homes in as-is condition to sell quickly, then renovate for top dollar value. This model saves the seller time and headache, giving them the proceeds for their home at market value with no real estate agent commission and buyers are able to buy newly-renovated homes for affordable prices. House Buyers came to RMR initially for a marketing communications campaign to increase its awareness and visibility in the region and its target markets and after several months, to expand its program with a direct response TV advertising campaign to increase their leads in the local region where it does business.
Solution:
To address these needs, RMR leveraged its expertise in direct response with its industry contacts to craft a customized, hybrid locally-focused direct response TV campaign for House Buyers. As more direct response campaigns are conducted nationally, the House Buyers initiative was a departure from the industry 'norm,' but RMR's seasoned expertise ensured that media buys were not just local, but effective- using its proprietary Assessment Tool to gauge results every 2-weeks to adjust and maximize response for House Buyers' investment.  The campaign consists of a number of types of ads and message focus, including branding, placed at carefully-planned times, to appeal to House Buyers' target age 55+ demographic.
In addition to the direct response campaign, RMR ensured these efforts integrated closely with House Buyers' direct mail and digital programs as well as its larger public relations program to give the company the greatest return.
Results:
Over the first 6-months of the campaign, the results continue to pour in. House Buyers' direct response effort features more than 4,500 ads running over four key network stations in the Washington, DC region, the 6th largest media market in the country. To-date, it has generated the below key results:
Overall website traffic increased by 61%;
Organic and direct web traffic more than doubled;
Website leads nearly tripled;
Almost 5,000 inquirers and leads were generated through House Buyers' website and the call center;
Leads and information requests increased by 165%; and
Ads generated 142% of leads and prospects per TV spot run.
Leveraging the power of direct response TV to House Buyers' marketing communications mix is continuing to generate results in the form of increased traffic and engagement, but also in public relations' power to amplify overall activity and information. The RMR team continues to secure a number of high-profile placements for House Buyers, including USA Today, The Wall Street Journal, and U.S. News and World Report, among many others.