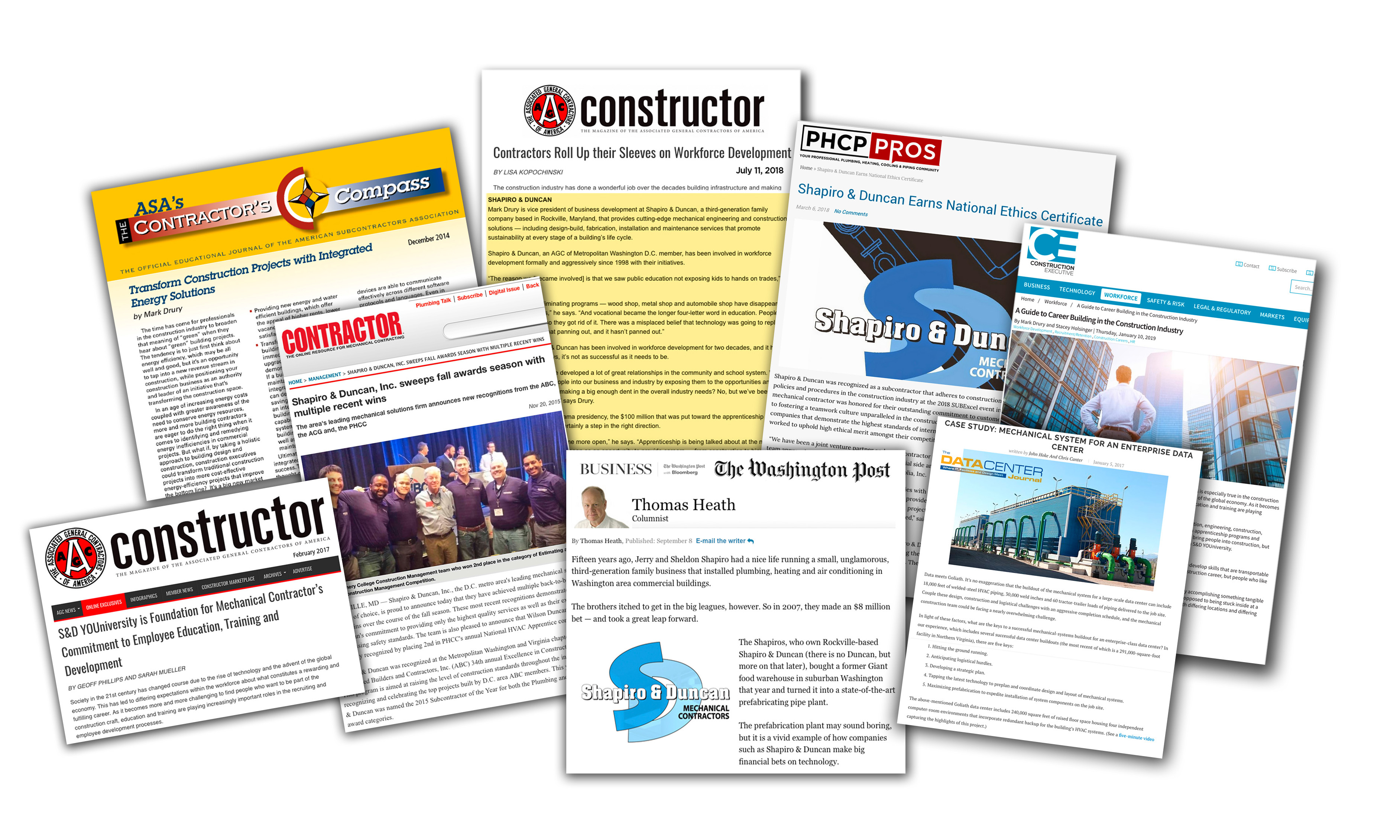 Shapiro & Duncan
Problem:
A leading mechanical engineering company in the Washington, DC area, Shapiro & Duncan came to RMR when the company was in growth mode, focused on positioning their business for future success and remaining competitive. Specifically, Shapiro & Duncan wanted to raise their profile within the construction industry – both locally and nationally – as well as highlight its unique attributes, such as its career education and culture components, in order to ensure it remained ahead of the curve and poised for fast growth for the long-term.
Solution:
RMR initially engaged with Shapiro & Duncan to re-design the company website, to more clearly highlight its expertise, unique selling propositions, and to establish a more future-forward look and feel. From there, RMR embarked on a content development project, to bring a dedicated effort to the company's marketing materials and case studies as part of the overall goal to achieve a consistent presence among key publications and influencers in the construction industry. This relationship then grew into a full-fledged marketing communications campaign over the years, with public relations and media engagement at its core, as Shapiro & Duncan continued to make strides in achieving the visibility and foothold in target media outlets for the company and its team of experts.
Results:
Over the past several years of the RMR-Shapiro & Duncan partnership, RMR has driven significant and sustainable results at various levels of the company's marketing communications campaigns, averaging more than 20 feature placements in the company's target publications per year. Shapiro & Duncan's work is regularly spotlighted in case studies pitched to the media, and the company is also regularly featured in a number of high-visibility construction industry publications, including Constructor Magazine, Construction Executive, and Contractor Magazine.
"We have been working with RMR for several years now. We first learned about Robyn at a speaking engagement in which she gave us excellent marketing tips & advice. We then teamed up with Sandra and Kelly who work with us on a monthly basis, staying on top of PR opportunities. They have developed countless case studies and press releases that later turned into published articles. Those articles have helped us stay on-top-of-mind and competitive in our industry. The team is highly organized, they have great connections, and their follow up is thorough. We love the personalized approach and attention to detail!"

Stacey Holsinger, Marketing Manager