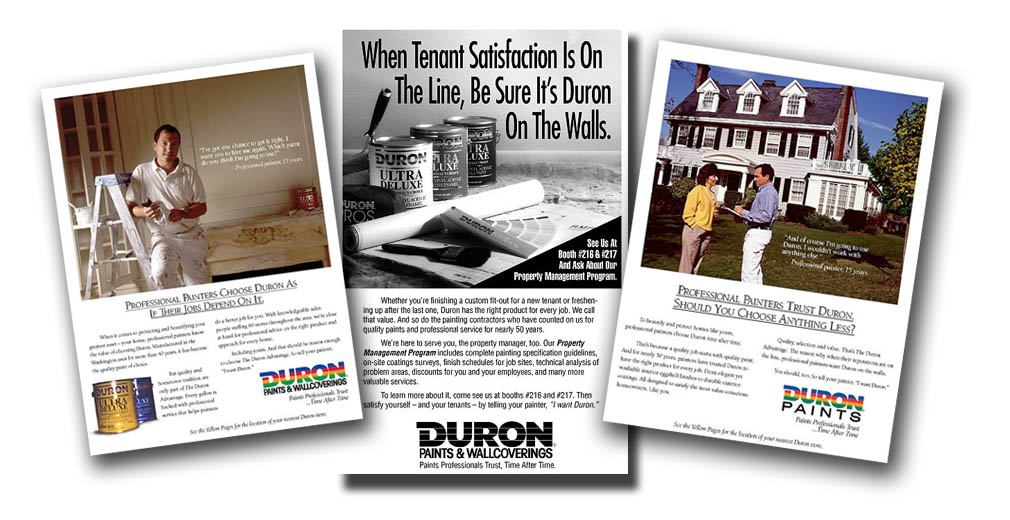 Sherwin-Williams (Duron Paints & Wallcoverings)
Objective:
Duron Paints & Wallcoverings, a locally owned and family-run regional leader in paint manufacturing, wallcoverings and supplies came to RMR with an image problem. Within professional painters' circles, Duron Paints And Wallcoverings had an impeccable product reputation.  Outside those circles, though, consumer awareness was mixed. Some consumers were aware of the Duron name and quality, but most thought the product was only available to professionals and therefore too expensive or unobtainable. What was needed was a marketing program that would heighten positive product awareness among consumers while trading on Duron's standing in the industry. Duron had a few marketing programs to draw upon. They had dabbled in advertising somewhat successfully in print, on the radio, and at sporting events — especially Redskins home games and NASCAR automobile races. The company also had a well-established, though with limited recognition, community outreach program. The problem was, these programs lacked focus, cohesiveness, and coordination.
Solution:
Rather than pursue new avenues for the company, RMR built on Duron's brand by leveraging their marketing and community outreach programs through an intensive two-year advertising and public relations campaign. Advertising focused upon quality as well as themes positioning Duron as the "paint of choice" among professionals and for consumers, and as the region's "hometown" paint company. These were coordinated through a spot radio advertising campaign highlighting a newly devised and memorable jingle, print advertising, and a sports marketing and advertising program that reached both the professional and consumer markets. Advertising was reinforced by a coordinated public relations and public outreach program bolstered by press releases and press conferences that tied together new products, new stores, and efforts in the community with Duron's advertising messages and themes. Duron's participation and recognition in Christmas in April (which received WJLA-TV news coverage), its support of the Hollywood All-Stars game, donations to the Trenton Park Community and to the Corcoran Gallery of Art's Family Day, and similar outreach reinforced Duron's commitment to the community. Similarly, participation and recognized involvement in The Grand Hyatt Project, Decorators Show Houses, and similar industry-related projects spoke to the quality of Duron products. In addition, an internal newsletter was developed and distributed which spotlighted the activities of  Duron employees and improved internal communication.
Results:
The focused and coordinated marketing, multi-media advertising, and public relations program gained Duron Paints And Wallcoverings widespread awareness and a healthy increase in market share, particularly among consumers specifying Duron paints. Duron moved from its position as a company that primarily supplied professional painters to one with an increased direct-to-client sales base. Partially as a result of this transition in the market, Duron expanded it's regional market northward into Pennsylvania, creating enough expansion capital through increased sales to buy a respected paint manufacturer and distributor in the Philadelphia region.
RMR helped Duron Paints raise our profile in the DC Metro area from the professional painter to homeowners. We'd recommend them highly!"

Carroll Bennett, Executive Vice President, Duron Paints & Wallcoverings