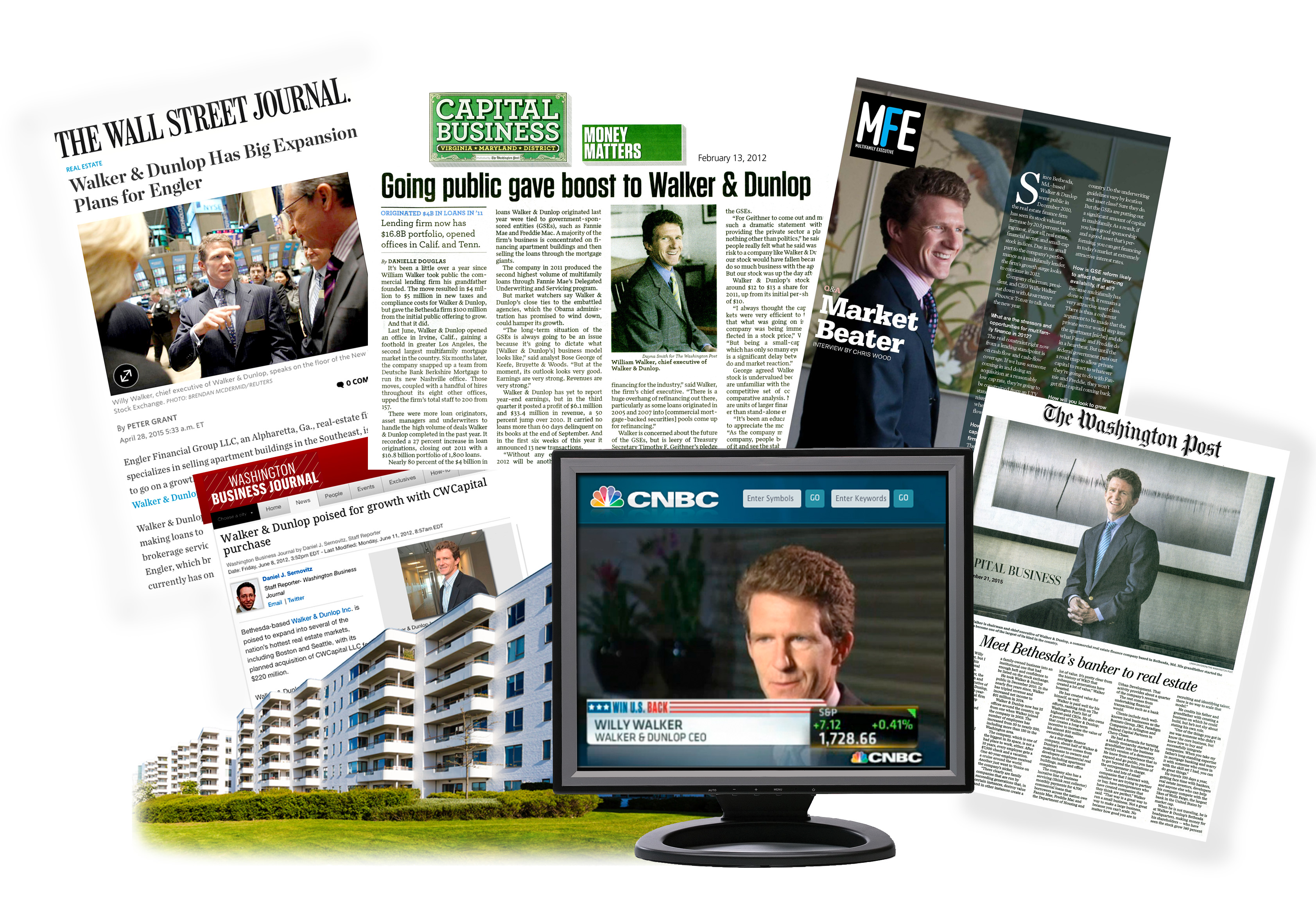 Walker & Dunlop
Problem:
Walker & Dunlop, Inc. (NYSE: WD) is one of the leading commercial real estate finance companies in the United States, with a primary focus on multifamily lending. At the time of its initial public offering, Walker & Dunlop became the first mortgage banking company in over four and a half years to access the public capital markets and was in need of achieving and increasing a high-level profile for its leadership and team with key industry luminaries, investors, and their key markets. In particular, Walker & Dunlop was looking to extend its internal marketing team's capabilities and become more aggressive in building relationships with the media to increase its overall 'share of voice' in its industry and beyond.
Solution:
To address these goals, RMR recommended an initial 12-month media relations program, in order to build relationships with national, investor- related media on Walker & Dunlop's behalf, consistently over time. RMR also recommended aggressively pursuing scheduled media opportunities, which would allow Walker & Dunlop to stay in front of industry and vertical market media in between the distribution of press releases and give them an opportunity to secure contributed articles to establish Walker & Dunlop as thought leaders in their space and further extend the content of press releases.
Results:
Over a period of several years, the RMR-Walker & Dunlop partnership continued to be successful and brimming with measurable results, in the form of continued media coverage and interest. Several consistent authored articles were placed for various members of the Walker & Dunlop team, both in nationwide media outlets like The Wall Street Journal and in trade and industry publications, as well as vertical media focused on student and senior housing, affordable housing, and others. RMR's strategic approach also resulted in a continued focus on announcements of the company's nationwide expansion and growth, while positioning it as a thought leader and luminary with its finger on the pulse of the real estate investment industry.
"RMR's established contacts in key national, local, and industry media outlets helped us gain recognition as a leading expert in commercial real estate financing."

Willy Walker, Chairman, President & CEO, Walker & Dunlop