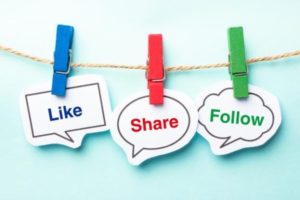 How to pack your social media posts with viral power
By Robyn Sachs, President & CEO of RMR & Associates, Inc.
An organization's communications approach should involve several levels and vehicles, from traditional public and media relations to email marketing to targeted advertising and more. Social media is the often-underrecognized vehicle that, when leveraged efficiently, can deliver exponential value and returns to cement and improve an organization's image — many times for a fraction of the cost and time commitment.
Over the years, I have had several clients come to us interested in adding a social media strategy to their marketing communications mix but not always certain about how to navigate the process to achieve the ultimate goal: viral distribution. The fact is, social media is rich in options, and the possibilities for targeting messaging and sharing content are virtually limitless. The real question for many companies becomes how best to use social media to achieve maximum impact. Here are some tried-and-true tips for packing your social media posts with the power they need to get above the noise and go viral.
Play up the FOMO and grab audiences from the get-go
Due to the massive amounts of content floating around on the internet, combined with audiences' dwindling attention spans, it is essential that your social media posts start out with a bold, snappy headline that doesn't just catch readers' attention, but also leaves them wanting more. This can be done through headlines that play up the FOMO (fear of missing out) factor, leading with a strong statement that taps into readers' desire to remain informed and engaged. The more you can place the focus on the key insights that the reader will be lacking, the more eyeballs you'll draw to your posts — and readers will be more likely to engage with and share your content.
Put yourself in your readers' shoes
It's a common error: When companies are developing their marketing strategies, too often they assume that they are their own target audience. While this might be true, it's best to approach your social media content development with an objective mindset that puts your target audience — and their goals, needs or perspectives — at the forefront.
Forging an emotional connection through your social posts is a great way to form a bond with your readers – and begin to develop the following and groundswell that can lead to viral visibility. Think about what your organization delivers, how customers and prospects feel about what you do and who you are, and how those observations might translate into a meaningful emotional exchange.
Establishing this emotional resonance might seem easy, but it's important to remember to stay relevant, grounded and real. Don't overplay your hand or look like you're trying too hard. Now more than ever, people are very adept at assessing content for authenticity. That's something you have to keep in mind when crafting content to ensure your brand comes across as trustworthy and honest.
Play up the creativity, and don't forget the humor
A social media post goes viral when it connects on a human level with an audience and spurs them to not just read the content, but act on it in the form of sharing to their own networks. While there are many ways for an organization to connect with potential customers, social media gives you the unique ability to add the personal touch and relatability necessary to transcend the average marketing jargon.
Humor is a major part of the human experience, and it affects how we relate to one another and to organizations, issues and causes that matter to us. Make sure you don't forget to infuse your social media content with levity to connect with your audience and inspire them to take action and share your message.
Know your audience and your distribution channel
There's a saying that "content is king," but recent observations by social media insiders add the caveat that distribution is its queen. With this in mind, in order to give your social media posts the best chance of going viral, it's critical to examine different platforms to communicate your message and distribute it to your target audience groups. People can't share what they don't see, so remembering to take the venue into account prior to posting your content will dramatically increase its effectiveness.
Social media content that goes viral typically does so for a few key reasons: the poster knows their audience, grabs their attention make an impact, leverages the FOMO factor and humor to connect on a personal level, and posts in the right place (platform) at the right time. Following these easy tips will help you elevate your organization's message and reap the maximum benefits that the social media landscape has to offer.